Mother's Day is here...Birth Mother's day is here...whichever one you celebrate, it can still be a hard time of year for many different people. Those struggling with infertility, placement, or just not wanting children in particular, this day brings emotions, questions, and so much confusion.
On August 20, 2008, I had a perfect baby girl. I, at that moment in time, was her mother. For those short moments in the hospital, i held her, i kissed her, i talked to her. People shared the joy with me in the hospital. Lots of people hugged on her. 24 hours later i made the choice to do what I felt was best, as her mother, and place her for adoption.
I made her mom a mother

(again..she already had two children)

and that moment I was forever changed.
That day i learned the real lesson of motherhood.
Putting your child before your self
Making sure your child has a safe and stable environment
Motherhood to me are those qualities first and foremost, before anything else. I was willing to do the hardest thing I have ever done, to give her what every child should expect from their mother.
Another way that my adoption has affected my mothering is by teaching me how precious every moment is. I absorb every little thing possible.
Every word Josie, Mina, or Evan

(My birthdaughter and two children)

Is either the funniest, cutest, or most heartwarming thing I have ever heard (in my opinion). Every dance they do is just perfect. Every milestone is so brilliant I want to scream it from the rooftops. Moments, are what make motherhood and I feel I KNOW, that I would not have learned that lesson had it not been for my adoption.
The last thing I got out of my adoption, is a cohort in this thing called motherhood. "B" Josie's mom, has been an incredible addition to my life. I love that I can talk to her about anything and not feel judged. I love that she was the first person I told when I found out I was pregnant again. I love that she is not afraid to tell me when Josie does something horrendously naughty. She is open about everything. She is not afraid, threatened, or scared to be honest.
My relationship with B (and my open adoption in general) reminds me of this scripture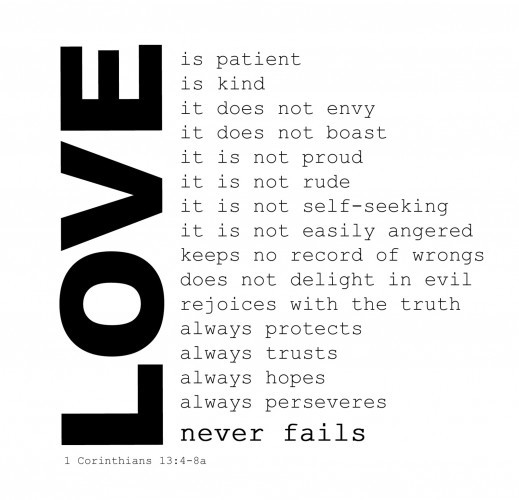 B is patient with me (and our sometimes spicy little J).
She is kind and always thinks of me when it's a big event.
She never boasts or shows envy towards me.
She is never rude or self-seeking, instead she is always trying to help J and myself.
She always protects J from anything that may come her way.
She always trusts me that I am not going to go psycho on her. :)
She always hopes the best for me and my family.
She always perseveres. Sometimes I pull away and she makes sure I know that she is there.
LOVE NEVER FAILS...it just doesn't. When things are done with love, they will succeed.
I decided to ask some birth parents what they like best about the adopting mom in their adoption:
I love the adoptive mom because she is one of my biggest supports. No matter where my life takes me she is there in my corner.
I love the woman who parents my child because she loves me and appreciates me. She has not once ever made me feel like my emotions were invalid or broken a promise. I love her because she thinks I have done her the biggest favor when

in reality she has done something for me I can never thank her for. I love her because she makes my son feel so loved and whole. I love her because she is exactly what I pictured in my mind when I was thinking of potential adoptive families. There are so many reasons I love adoption but she is a big part of it.
I love the adoptive mom because she makes not only makes my son's life better but mine.
I love the adoptive mom because she and I will forever be connected in an act of love.
Then I decided to ask to say what being a mother means to them:
Being a mother means unconditional love, compassion and lots of kisses, hugs and snuggles
Being a mother means having to worry every minute of everyday about how your heart and soul now walks outside your body.
Being a mother is love. It is not genetics, distance, or material things. Being a mother is in the heart, it is that unconditional love for your child.
Being a mother means loving unconditionally and without regard for your own needs or desires.
Motherhood/Birth-Motherhood/Parenthood...It all derives from one thing, that is